The Antifascist Unity Coalition was started August of 2019 by friends who fight against hate in communities all over the world. We know that it is about more than just fighting the hate in our communities. We are making efforts to better our communities, coming together to help each other regardless of where we are in the world. These efforts are centered around education, arts and culture, as well as just simply reaching out to those who need help. Our current effort, "Days of Unity: Feeding Our Communities" is working to support food banks and pantries across the country that are critically depleted due to the current health crisis. We hope to do more in the future, and we would love for you to be a part of our community! If you would like to join us, feel free to reach out!
A Year of Crisis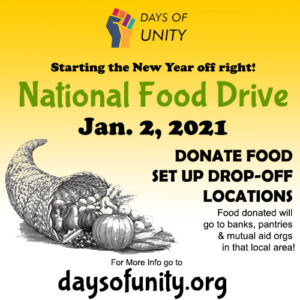 2020 has been a trying year, especially for those organizations that have been trying to help families with basic needs. One of the biggest hit in our communities have been food banks, pantries and mutual aid organization working to help feed communities across the country. The pandemic meant many more families than ever before were in need and as they close the year out, supplies they would otherwise have are depleted.
Now it is time to help them. And we will start 2021 off on a positive note.
On Jan. 2, the Antifascist Unity Coalition are holding a National Food Drive! We are calling on everyone across the country to donate to your local food bank, pantry or mutual aid organization. If you can set up a location to drop off food that day, let us know, so we can promote the location on our website daysofunity.org. We will also be raising money for those organizations via our GoFundMe campaign that has been operating since the summer.
2021 is the year that we reject divisiveness and embrace unity, and it starts with looking out for each other. Out with the old and in with the new – together. For more information or to be a part of it, contact [email protected]